Datasheets are an essential selling tool for any product centric businesses within the Construction industry. However, producing and maintaining datasheets 'en masse', can prove to be extremely labour intensive, error prone and very costly. Imagine if you could automate the production of thousands of unique datasheets, sell and differentiate your products all at the click of a button.
Introducing e-Pim's Automated Product Datasheet feature (APDS)
Once your data is fully enriched and correctly structured within e-Pim, you can streamline the production and output of your product datasheets as PDFs, for both print and digital.
Datasheets created in e-Pim can be individually styled to suit your business (or brand) and tailored to your particular specification. Because datasheets are created 'on-the-fly' from existing data held within e-Pim, you can rest assured that all data sheets generated will consist of the most accurate and 'up-to-date' information. Most importantly, any product updates are then automatically fed to your channels in a matter of seconds. You can finally say goodbye to the inaccurate, time-wasting and manual processes involved in creating and storing endless amounts of datasheets.
Benefits

COST SAVINGS
Because product datasheets are 'automated within e-Pim, there is no manual editing required or necessity for multiple versions. You'll be able to reduce the time in generating data sheets by up to 85%.
CUSTOMER RETENTION
e-Pim's in-built custom design template, allows you to top and tail your product datasheets the way you need, incorporating your company logo or product branding – for that extra professional touch.
What's more, you can deliver the datasheets when, where and how your customers want them, for both print and digital use as PDFs. Datasheets automatically generated in e-Pim (or your 'single source of truth'), provide your customer with well presented, consistent, enriched, accurate and up-to date quality datasheets at their disposal 24/7.
NEW REVENUE STREAMS
e-Pim Automated Datasheet Feature also opens up a whole new opportunity for accessing your 'digital sales channels', as datasheets can instantly be pushed-through to all of your distribution selling channels – with no extra work involved.
INCREASED TIME TO MARKET
Because you no longer need to wait for datasheets to be manually created, you can save time and money by being able to quickly respond to the demands of the marketplace and plan for seamless product launches in the future.
Marketers are left free to devote more time to other projects – thanks to e-Pim's intuitive and powerful automation!
STREAMLINED PROCESSES
e-Pim enables business teams to collaborate and operate more efficiently through a single, centralised, governed, and easy-to-use platform.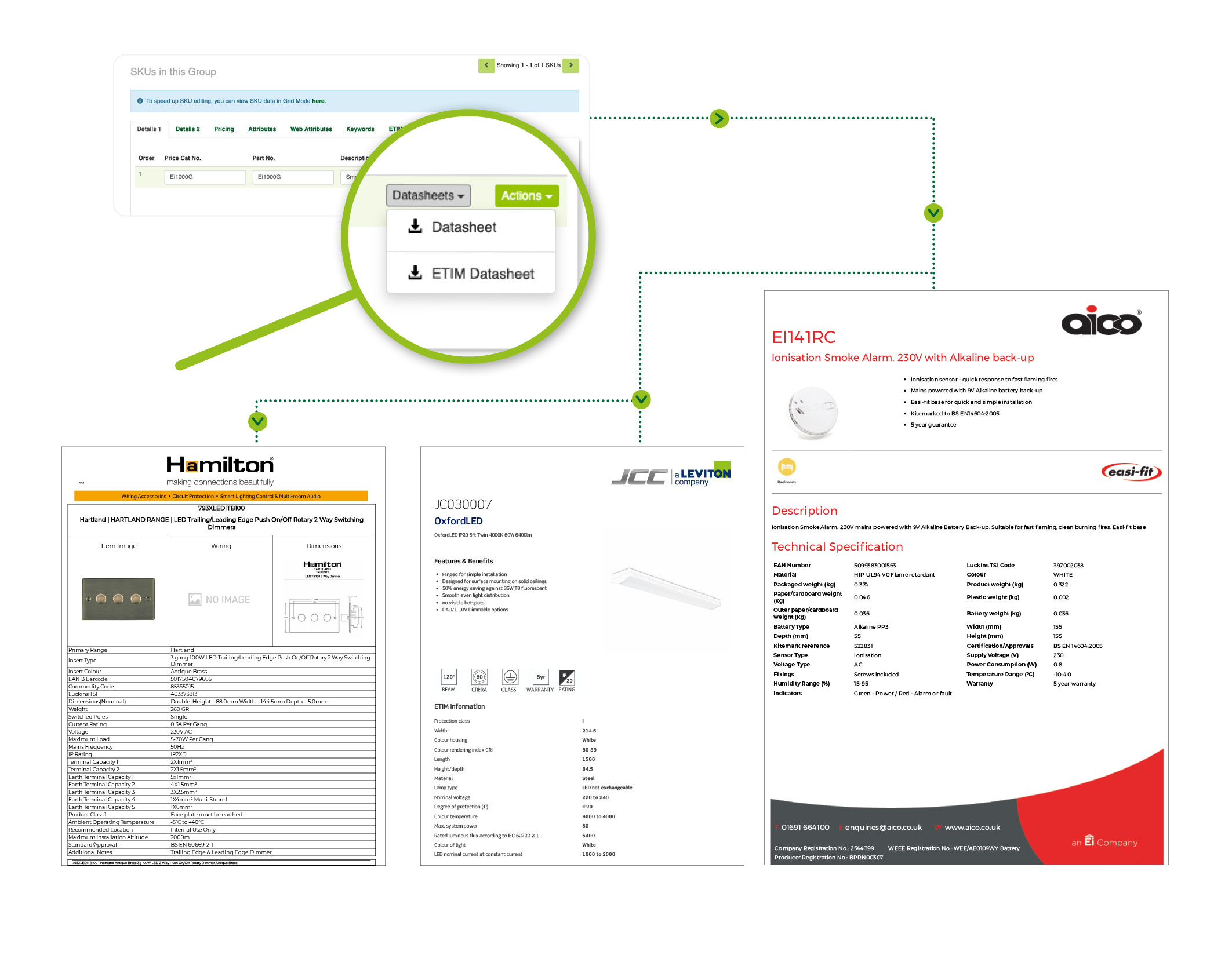 What makes a good product datasheet?
FULLY ENRICHED
A product datasheet needs to be fully optimised and enriched. The pressures of time to market deadlines are no excuse for neglecting the product's actual content: marketing data, technical data, attributes, descriptions, digital media assets (images/videos/diagrams). The digitally connected customer and your commercial partners demand access to comprehensive information about your products at all times.
The more enriched your content is, the more impact your product datasheets will have on the end user. Additionally, if suppliers or marketplaces use optional data such as search filters on their websites and the data isn't present, the product will lose its position on the 'digital shelf', leading to missed sales opportunities.
Fully enriched datasheets require team effort and collaboration between your company departments. e-Pim allows cross-department sharing of information and provides your team with the ability to allocate varying user roles such as; reviewer (view only), editor (edit existing content) and admin (full editing access), so all team members can work seamlessly together from one centralised data source.
FORM AND FUNCTION
You can fully customise your product datasheets, tailoring the information for output to suit your target market. If your data adheres to European Technical Information Model (ETIM) standards for example, e-Pim will allow you to produce datasheets based on this data only, enabling you to deliver globally consistent product technical information.
This helps to remove any ambiguity and making it easier for those working in the construction industry and supply chain to specify products. NG15 can work with you to create bespoke, branded templates – for that extra professional finish.
Digital assets are a key component in datasheets and can be a big influence in the sale decision. Poor quality images can lead to a lost sales opportunity. Using e-Pim's built-in Digital Asset Management (DAM) solution, you can store all high-resolution images (we recommend 300dpi for maximum quality) and have them link to your SKU's, allowing the Automated Product Data Sheet to utilise these digital assets.
"Ultimately a good product data sheet allows for a more informed and confident purchasing decision."
We caught up with Gavin Williams from Hamilton Litestat for a chat about his experience of using e-Pim's APDS feature and the impact it's had on day-to-day business. Read more here.
If you think e-Pim could be the right solution for you and you would like more information, please get in touch and one of our data experts will be on hand for an informal chat.
Or book a free online demo and let us show you what e-Pim can do for your business.