Tips for Enriching Your Product Content
Enriching your products with content-rich data not only adds value but also matures your products for marketing and selling. When done correctly, the end user of the product is provided with optimum information about your product and will enjoy a better shopping experience.
Here is an example of what to include for enriched product content:
You will need to consider descriptive text, specifications, URL image links, videos links, branding, supporting documents, customer reviews and any other information you have collected about the product. The product detail you include needs to be specific, accurate and up to date.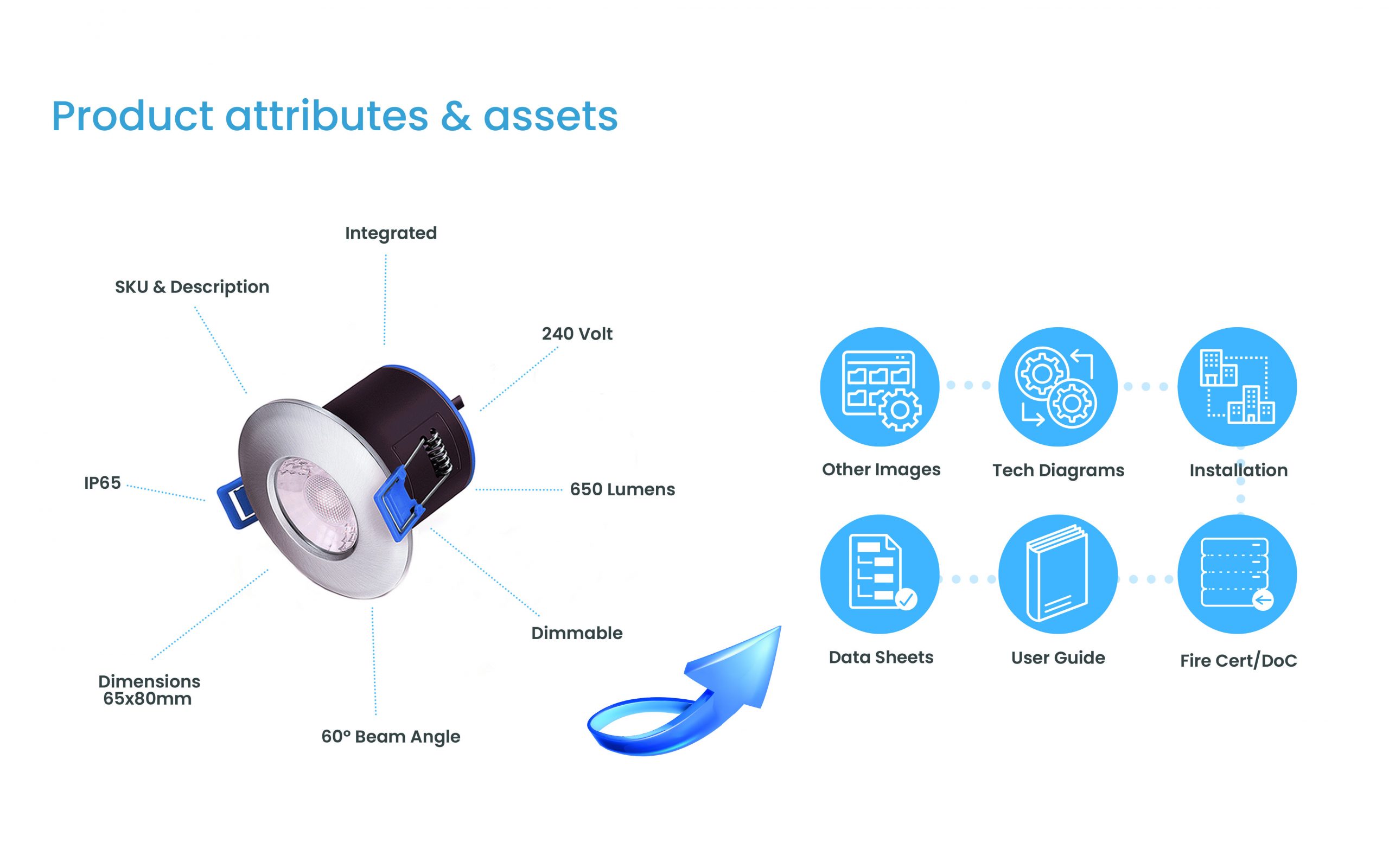 Key Features
Highlighting the key features of a product helps to quickly draw attention to the main selling points of a product. This content is mainly used on websites and in publications for marketing purposes. Typical features include:
Dimmable as standard
Twist & lock bezel
Push-fit termination
Fully fire rated and certified
Three-year guarantee
Associated Products
You should also consider associating other relevant products (to this main product) that will assist with the purchase and installation. For example, your downlight may come with a variety of bezel finishes.
Adding ETIM Classified Products
The addition of ETIM Classified product information ensures that your products are attributed to the standards required by the industry. Including this standard ensures that your business is prepared for any legislation or governance that might be introduced to the industry.
Industry Pools:
Once you have fully enriched your products, your business will be in a better position for supplying product content that is accurate and detailed, enabling the consumer and the end-user to make better informed purchases. The EDATA and Luckins data pools, are examples of where having this 'rich product data' available, can enhance and increase your product sales.
A PIM system such as e-Pim, helps you to maintain all of your product data and assets…read more.
To book an e-Pim Demo and to find out more about product enrichment contact:
t: Suzanne – 07795 836194
e: suzanne@ng15.co.uk